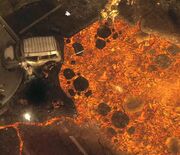 Lava is a Hazard introduced and Exclusive to Green Run Maps
TranZit
,
Town
,
Farm
 and
Bus Depot
. 
Lava Covers the Green Run area of the world, caused by damage of the Missile Impacts from Griffin Station.
It deals damage to Players and Sets Zombies on fire (which will then Explode unless killed by an Explosive Weapon or Galvaknuckles)
Equipment thrown into the Lava will be rendered Useless.